This post will be more of a reflection piece of some thoughts I've been mulling over during the past week.
One of my friends came over to visit while I was sick and told me that, apart from being sick, I looked so much more at peace with life than ever before. Apparently I was radiating "happiness vibes" and she simply asked if I had any insight into what changed from when I was struggling with my reconciliation of the church and my sexuality.
Nothing has really changed, at face value, of how I feel about homosexuality and my religious beliefs. I still live in this strange gray world between the two that takes quite a bit of give-and-take. I still have doubts about where I'll be in 5 years, I still get mixed messages from friends telling me to either "be true to myself" and forget about the religious constraints of Mormonism or to "be true to God" and forget that I'm gay. Throughout this whole issue, I've always wondered: "Why can't I be both?" Why can't being true to myself coincide to being true to God? Why is there still this myth of a black and white world where homosexuality is incongruous with Mormonism (and many religions). I heartily believe that this is possible.
When I reached that conclusion a couple of months ago, I was finally able to tell myself that I was "ok" with being gay and Mormon. However, telling myself that never made it true. I still struggled with what it meant to
accept
my "complete me". As I would attend church I would still feel lonely, misunderstood, and ignored. Meeting with some gay friends left me confused and worried that
I
still didn't understand what was going on with my sexuality.
Finally, I decided to start meeting gay guys in person and developing relationships with people who understood what I was going through. By meeting them, I wasn't trying to probe into understanding how they dealt with their sexuality, but I wanted good friends and just hang out with other guys who "got it". These "pseudo-dates" (from what they seemed) led to some great relationships and better friends. It was at this time that I started pulling myself out of this confusing dichotomy of Mormon and gay.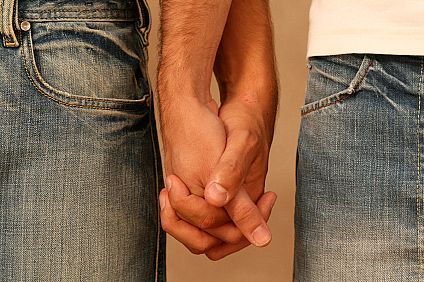 I realized that accepting my sexuality was not just in my head: I could
do something
about it. I can have relationships that stays within the bounds of the Mormon Church's delineation of chastity. Last month I met my best friend that has really helped me through a lot and through it all we have confirmed our commitment to the gospel as explained by the LDS religion. We are two gay guys hanging out, hiking, camping, playing games, watching movies, and more: but, we get each other.
Now I'm in a place where I'm living my sexuality and my religion. Being in this relationship has helped me feel more comfortable in every situation. I'm no longer confused and angry about the world. I've gone to church and felt the Spirit again. It's become easier to read the scriptures and pray to my God. It's become easier to focus on work and school and activities.
Interestingly, when I was trying to "subdue" my sexuality by abstaining from it completely I actually distanced myself from my religion and the rest of my life as well. By living my acceptance of my sexuality, I have actually been able to accept myself completely--everything that I want to live true to: religion, music, school, work, etc.
I'm not going to advocate this as the solution for everyone. However, for me, it was time to stop saying "I'm ok" and to start living that I was "ok". We all need to find that balance. Is it really enough to say "I accept who I am"? For me, I needed more. I found that establishing relationships with other gay guys was my way of living my acceptance. So the question is, how have you lived that acceptance (or how will you live that acceptance)?